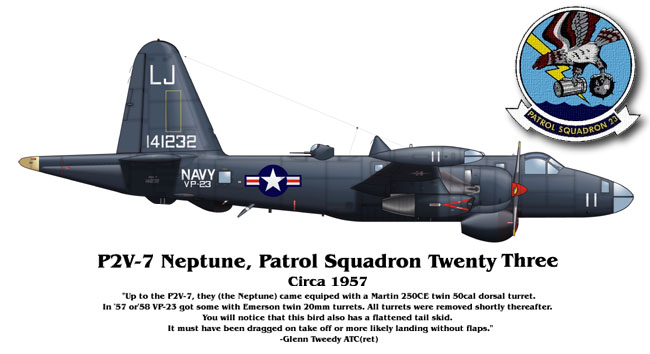 When I first posted this profile in February 1999 (A rainbow of Blues, Grays and Whites), it was with some hesitation that I chose the color to represent "Seaplane Grey". Shortly afterwards, using a pantone color matching guide and the excellent series of books by John Elliott I settled on a color that appealed both to my artistic sensibilities and historical accuracy.
I recently received an e-mail from Ron Wheeler that prompted me to revisit this particular profile and make some needed corrections and to bring it in line with my current interpretation of seaplane gray. I would like to share excerpts from that e-mail:
I was on the crew of VP-23, LJ11, Buno. 141232. This aircraft was delivered to VP-23 in Halfar, Malta about 1957. It replaced the former MA11, LJ11 which crashed in Northern Italy while on a search and rescue. My crew, MA2, had just returned to Malta from a month of ASW school in Londonderry N. Ireland, HMS Sea Eagle.

We were awakened early in the morning and flew to Aviano, Itlay and then to Turino, Italy where we spent about four days while our aircraft commander and others investigated the accident of MA11.

The new MA, LJ11 was given to our crew while a new crew was put together for MA2. You have to realize that about this time, were switching from MA to LJ on the aircraft. The aircraft also received bright red paint on the spinners. I have numerous photos showing those red spinners.
Ron later added the following:
What a great reminder of days spent on a wonderful workhorse, the Neptune. Those jet engines saved our hide at least once while we were down very low trying to track a Russian sub. One of the recips coughed once and the jets went from idle to full power and we climbed to altitude with no effort at all. Both recips could have been shut down and we still would have gone like a rocket. While in Londonderry N. Ireland we operated with Canadian crews who were using, I believe, P2V-5's without the jets. Brave souls!

Just prior to leaving Brunswick, ME. for Malta, my friend Dick Betzler, an Electronics Tech on Crew 11, and I had a few beers in a bar in Brunswick. Dick asked me if I would like to transfer to his crew, MA(LJ)11 since they had an opening for another "tron." Since I had become established on Crew 2, I thanked him and said no. Only the second Mech from crew 11 survived that crash into a hillside. Fate... I often wonder why I had said no since I liked Dick and knew the plane commander, Ltjg. Herb Kloepping quite well. I have flown on a crew or two with him when he was a navigator and had developed a good rapport with him.

The spooky thing is that MA11 is just visible in the background of one of my crew pictures in Roosevelt Roads, PR during my first deployment there. MA(LJ)11 was to play a role in our lives one way or another.
Ron added more to the story of 141232 on 01/04/2000:
I recently received a letter from LCDR Harry Rich describing the incident which dented the skag. This was a checkout flight for another pilot to become PPC. Mr. Rich simulated an hydraulic failure; i.e., no flaps available. The pilot came in a little slow, too slow for a no-flapper, and had to carry considerable power and had the nose "cocked up." However, all seemed normal, and Mr. Rich was very surprised at touchdown when the tail skag dragged first. LCDR Harry Rich is retired from the Navy and lives near NAS Bruswick, ME.




Photo of 141232 and inspiration for the profile graciously provided by Robert Wood via Glenn Tweedy.